Is there any reason why the significant cycling sub culture of BMX is not included in this forum?
BMX had, & currently has, a large following & BMX restorers are more dedicated & more fervent in their persuits than most traditional bike restorers.
BMX is also an Olympic sport these days while Dragster, Lowrider & Cruiser riding is not.
BMX also has a significant, if reasonably recent, history & they should not be regarded as just a bunch of kids bikes as riders well into their 40's are still riding in competition the same bikes that they had in their teens, so in this case, size does not matter.
Incidentally, my own Australian made 1981 Quicksilver is still leading our retro race series by two points with one round to go. This series is sponsored by Mongoose, so they at least regard this as still being a significant part of the cycling scene.
Number 32 is mine with that BMX icon, the Quicksilver 'Team Helium' behind it.
Only about 150 or so of the Heliums were made & I count myself lucky to have one production example & one of the three hand made lightweight Heliums that were made in December 1981 for the factory team riders.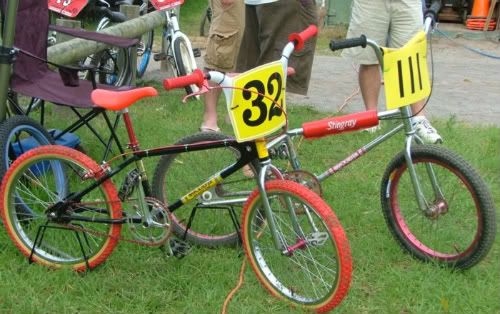 This is the over 40 [years old] class with my Quickie in the lead & this series is for pre 1986 bikes.
No. 555, [almost obscured, far left] is a 1982 Mongoose & is still raced by it's original owner who won the Australian title in his class on this same bike back when it was new.
Old juveniles, it would seem, never grow old.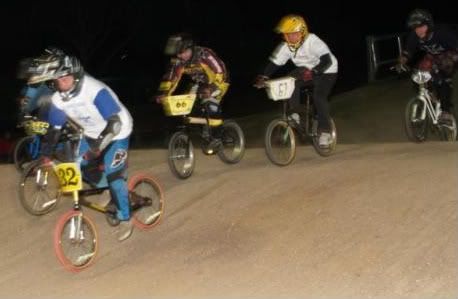 Oh yeah, just to make the connection, take a Dragster, ditch the un-needed parts, substitute some BMX parts & you gave a cool 20" Cruiser.
The bike behind it is the only 'currently' known surviving example of the Quicksilver 'Limited Edition' which was on offer for the month of December 1981 only.